About
I studied at the Ruskin school of Drawing, Oxford and the Royal Academy Schools, London. My training was "classical" in relation to traditional practice including painting and drawing techniques, methods and materials, design and theories etc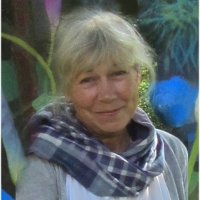 interview with the West Norfolk Artists Association
http://westnorfolkartists.org/blog/2019/07/in-conversation-with-thelma-chambers/
Education
1976-1979 CFA Ruskin School of Drawing and Fine Art – Oxford University
1979-1982 MA –Fine Art Royal Academy Schools Piccadilly London
Employment
1999-2012
National Film School, Dublin, Ireland
Institute of Art Design and Technology
Lecturer and Course Director - B.A. Hons. Animation
Lecturer and Course Director - M.A./MSc. Digital Media
1989 –1999
Ballyfermot Senior College , Dublin.
Co-ordinator – Diploma in Animation Production Course
Tutor in Art and Animation Studies
Freelance
2007-2010 Broadcasting Commission of Ireland Sound and Vision Panel
2009/2010 Produced Animated Dyslexia DVD for the Dyslexia Association Ireland
2008 Created and Directed the film NEON JIVE. Funded by the Hugh lane
Gallery and Dublin City Council. shown in the Hugh Lane Gallery .
1999-2000 Arts Facilitator Co-operation Ireland involved with cross border arts activities.
Selected previous work experience:
1988-1989 Governor to Chelsea School of Art, London
1987-1988 Community Arts teacher, Shepherds Bush Arts Centre
1988 Restoration Assistant, National Heritage Trust, Marylebone Church, London
1986-1988 Designed and presented Community art classes, Hammersmith and Fulham
1984-1988 Lecturer in Design and Applied Art, Inchbald School of Design, London
Exhibitions 2018
Recently showing in:
Wiveton Hall Cafe, Norfolk
The Old Fire Engine House Ely
The Maltings Wells
2017-2018 solo show, group shows Greyfriars Art Space Kings Lynn Norfolk
2016 solo show, group shows The old Fire Engine House, Ely Cambridgeshire
2014 'Connecting the Dots' group show North Wall Gallery Oxford
Portugal
2013 "Enchantment " solo show Palacio Independencia Lisbon
Staged in collaboration with the Irish Embassy to celebrate the Irish Presidency of the European Union.
2013 "Enchantment at Monserrate" solo show, World Heritage site: Palace of Monserrate, Sintra
Ireland
2005 Grafton gallery group exhibition of painting Dublin
1990 Limerick City Art gallery. EV and A exhibition
1997 Steven Lawlor gallery, Kinsale.
1991-95 Green on Red gallery Dublin
1993 West Cork Arts Centre. solo show.
1992 Limerick City Art Gallery. EVand A.Exhibition
1991 Bank of Ireland Exhibition Centre. Dublin.
1990 Wyvern Gallery, Dublin
1990-95 Dolan Moore gallery, Athlone. solo and group shows.
1990 Mansion House, Dublin. Irish/Soviet Exhibition
England (pre 1990)
1998-90 Thursday Gallery, Bath.
1985-88 Sue Rankin Gallery, Fulham, London. solo and Group shows.
1982 Battersea Arts Centre, London. solo show.
1982 Christies Inaugural Pick of the Graduates
1981 Oxford Playhouse, solo show.
1981 Reading Hexagon Theatre, solo show.
1981 Royal Academy of Arts, Stowell's Trophy Awards.
Awards
1990 Dublin Corporation "City of Culture" Grant.
1992 Arts Council of Ireland. Exhibition Grant.
1991 Arts council of Ireland. Documentation Grant.
1984 Leicestershire Council Arts Grant
1979 Vandlheur, Sparks And Leverhume Scholarships to the Royal Academy Schools
Residencies
2012 -2013 Inaugural Artist in Residence: Palace and Gardens, Monserrate, Portugal
2008 Animation Project , Larkin Community College Dublin, for Hugh Lane
Gallery and Dublin City Council
1993 Tyrone Guthrie Centre, Annaghmakerrig. Co Monaghan
1992 Artist in Gallery for EV and A Limerick City Art Gallery.
1992 Artist in Gallery for EV and A Limerick City Art Gallery.
1990 Artist in Gallery for EV and A Limerick City Art Gallery.
1984 Resident artist at Beaumanor School, Leicestershire Council
Collections
Oxford University, St Edmund Hall, Oxford.
Leicestershire Collection, Beaumanor Hall, Leicestershire.
Royal Hospitals Collection, London.
Guinness Peat Aviation, Ireland.
Irish Embassy Lisbon
Private collections